Chandrar is the largest continent, with the main feature being a massive desert that occupies a lot of its area. It's home to Humans, String People, Garuda and even Beastkin.
Overview
[
]
The people who live here are generally considered strong of spirit and resilient, moreso than those of other continents.
History
[
]
Around 10 years ago, Flos Reimarch nearly conquered all of Chandrar, before entering his slumber.
Geography
[
]
It is located south from Izril.
Most of Chandrar's lands are inhospitable and have dry arid ground, but it also has valley and places where nature blooms.[1]
Locations
[
]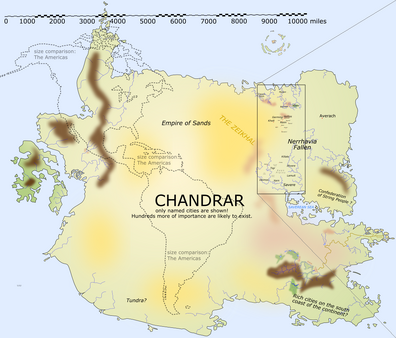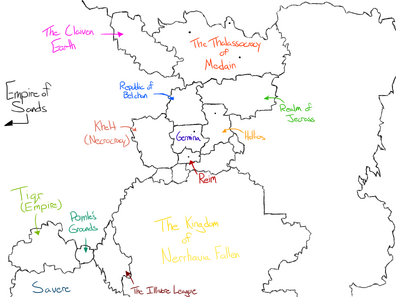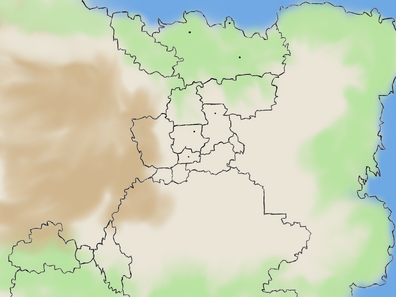 Nations:
[
]
Empires:
[
]
Tiqr / Empire of Beasts (Conquered)
Kingdoms:
[
]
Cities:
[
]
Averach
Belevadim
Blalevault - Capital City of Hellios
Caardefelt - One of the larger cities within Nerrhavia's Fallen[10]
Chalm
Delicrel - Within Illivere[11]
Demarsel - Within Illivere[12]
Edojaf - Capital City of Khelt
Elbe - Within Illivere[12]
Ger - Capital City of Germina
Lailight Scintillion - Port-Capital of Roshal
Levrhine - Capital City of Belchan
Oliphant - Capital City of Tiqr
Rast
Reim - Capital City of Reim
Trevlt - Border City within Medain[13]
Unst - Within Illivere[12]
Vishront[14]
Ziozem - Within Illivere[12]
Villages:
[
]
Manimar - Within Reim
Merral-Devith - Located to the North of Nerhs (Destroyed by Crelers)[15]
Bazaars:
[
]
Deserts:
[
]
Oasis:
[
]
Be'neld Oasis - Within Tiqr
Yov Oasis - Within Tiqr
Areas:
[
]
Cadistell
Forest of Nemask - Within Khelt[16]

Glass Straits

[17]
Heda's Valley - Within Tiqr
Hellia's Pass
Killale Steppes - Within Killale
Lion's Valley - Border between Jecrass and Medain[18]
Merrina Pass - Border between Jecrass and Medain[19]
Reen Plains - Within Tiqr
Simel Gulf[20]
Viadem's Pass - Within Belchan
Rivers:
[
]
Aleyss[12]
Channel of Borendivual - One of the largest rivers in Nerrhavia[16]
Reic River
River Celed - Within Jecrass[21]
Sothsoil[9]
Yerides[9]
Trivia
[
]
The continent of Chandrar looks like a rather lumpy rectangle.[22]
Yellats are considered a poor man's food in Chandrar because they are the only home-grown vegetable in many places[23]
Chandrarian people take perceived insults seriously, and the Desert Clans are especially touchy.[24]
References
[
]