Jurassic World: Dominion Dominates Fandom Wikis - The Loop
Play Sound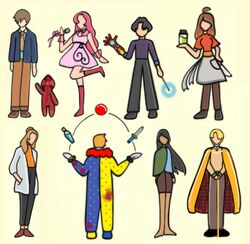 Earthers or Earthworlders, refer to Humans who were transported from Earth.
The main Earthers that The Wandering Inn's storyline focuses on are; Erin Solstice and Ryoka Griffin. To a lesser extent, sidestories follow other Earthers including Trey Atwood, Geneva Scala, Luan Khumalo, Laken Godart, Aaron Vanwell, and Thomas among others.
Overview
[
]
People from Earth were teleported to Innworld by way of a magical ritual undertaken by [High Mages] commanded by the Blighted King. This ritual, powered by sacrificing hundreds of unborn children, was enacted in the hopes of summoning Heroes in order to gain an edge over the Demons.[1][2] Earthers are able to level exponentially faster than the native Innworld inhabitants, being able to level in a year what has taken decades for most.
The first transportation/abduction happened in Autumn 2016 (Earthside), but the process has continued, with large numbers of Earthers randomly coming in two major waves. Time passes at a different slower in Innworld than on Earth, as while less than a year has passed on Innworld, Earthers from 2016 to 2021 have arrived.
Wistram was the first major world power to be made aware of the phenomenon, after Aaron Vanwell was directly transported to the academy. Since then, they have made an effort to secretly find and gather as many Earthers as they can.
In most cases, the transported Earthers have appeared in small groups or individually. The largest reported mass-transportations so far happened in the following areas:
The Earthers are primarily young adults and adolescents, ranging from 16 years old (Trey and Teres) to 24 (Geneva) and 25 (Luan).
For some unknown reason, Earthers are unable to remember their home, family, and friends, similar to a blank spot in their memories, unless they give an effort. While they can remember everything else about Earth (including history, politics, inventions, etc), but they are unable to recall them unless they try to remember or something reminds them.[8][9] (The only Earthers who seem to be unaffected by this phenomenon are Ryoka and Erin; Ryoka has reminisced about her father (albeit unpleasantly), and Erin, upon receiving [Like Fire, Memory], has also been able to remember details of her family.)
Highly speculative: Randomness and frequency of the irregular transportation pattern make it plausible that so far, thousands if not tens of thousands of Earthers were transported to Innworld. Most of those who appeared in the unknown world barely survived and the story covers mostly those who did and who speak English, and who own an iPhone.
The Blighted King's [High Mages] and [Chronomancer] Nereshal have speculated that for the 10,000 sacrificed unborn souls, exactly 1000 people might have been translocated to their world - but they also concluded that most must have died, either killed by monsters or local natives; or otherwise drowned or falling to death from being teleported into the air.[10] (The last point has been confirmed by Shadeward Doroumata, who divulges to Eldavin that Human corpses have been found outside the Drowned Folk's undersea cities)[11]
Notable "InnWorlders" knowing about the Earthers
[
]
Known Earthers
[
]
The largest known Earther groups that consider themselves as "safe havens", are currently the United Nations Company in Talenqual, Baleros; Wistram Academy; the followers of the Queen of Pop in Terandria; The Wandering Inn in Liscor, Izril; and the Americans in the estates of Lord Operland in Rhir.
The following tables give documentation of Earthworlders residing or deceased...
Known in Izril

[

]
Known in Rhir

[

]
Name
Class/Occupation
Status
Location
Country of Origin
Reference Chapter
Zara Walker (strider_479)
[Ranger]
Alive
Unknown
Australia
Interlude 2
Interlude 3
Group who were teleported with Zara
Unknown
Alive(?)
Unknown
--
Interlude 2
Cara O'Sullivan
[Thespian]/[Pop Star]
Alive
Around (touring)
Ireland; Galway
Interlude 3
Greg
[Guitarist]/[Performer]
Alive
Around (touring)
--
7.21 KQ
Abebi
[Manager]
Alive
Around (touring)
Nigeria
7.21 KQ

Nicolas

Electronics guy
Alive
Around (touring)
Argentina
7.21 KQ
Rae
[Bassist]
Alive
Around (touring)
France
7.21 KQ
Thien
[Drummer]
Alive
Around (touring)
Vietnamese
7.21 KQ
Other Argentinan in Cara's crew
Unknown
Alive
Around (touring)
Argentina
7.21 KQ
The 8th person in Cara's crew
Violinist
Alive
Around (touring)
--
7.21 KQ
More people depending on Cara, among them Desmond
Unknown
Alive
Around (touring)
--
7.21 KQ
Lillian Woods
[Bandit]/[Griffin Rider]
Alive
Kaliv
Canada
7.21 KQ
Group of 5 from 7
Alive
Desonis
Denmark
8.16
The 2 from the group of 5. Killed by a Poison type Hydra.
Deceased
Desonis
Denmark
8.16
? - Young woman with eastern features
Alive
--
8.16
Known in other known Locations
[
]
| Name | Class/Occupation | Status | Location | Country of Origin | Reference Chapter |
| --- | --- | --- | --- | --- | --- |
| Solca Vis | [Fisher] | Alive | Edge of the World | Unknown | 7.34 C |
| Unknown number of Earthers teleported in the sea depths were they died instantly. | N/A | Deceased | Under the Sea | Unknown | Paradigm Shift (Pt. 1) |
Known in Currently Unknown Locations
[
]
A few of the following may be identical to others previously mentioned, but so far that is not confirmed.
Trivia
[
]
Initially, Krshia heard that fellow Gnolls had seen strange Humans in the southern Gnoll Plains before, but those were all "long dead" when they were found. Since she made that remark when Erin was not even a month in Liscor, this implies that either this was the latest news among the Gnolls, or that there were transportations even before Erin landed in Innworld.[41] However, Kasigna would later claim that Erin was the "first of them," which brings this news in doubt.
References
[
]