The Empire of Sands is an empire in Chandrar, ruled by the Emperor of Sands.
Geography
[
]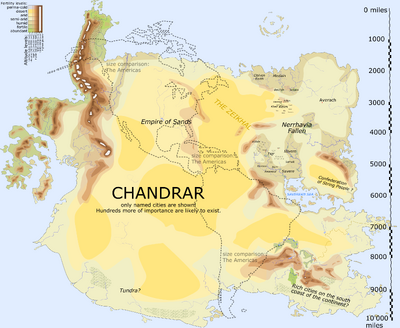 Most of the Empire consists of vast deserts.
Chronology
[
]
The Emperor of Sands executed Drevish and sent his head to Reim in order to declare war at Flos.
Layout
[
]
Government
[
]
It is ruled by the Emperor of Sands, a String Person that switches gender. Their most important skill is [Sanctuary of the Desert], that grants access to aquifers below the sands to bring forth water.[1]
Population
[
]
Its known population is Garuda, String People, and Humans.
Military Strength
[
]
Trivia
[
]
It rules over most of Flos's former kingdom.
References
[
]